Details

Category: New products
Published on Wednesday, 11 September 2013 14:04
Written by nidinbalakrishnan
Hits: 1049
For the first time Apple Inc. released two iPhone models at once. In the past, Apple simply offered one new model targeting the high-end market. This time, an affordable iPhone 5C makes a debut. The change comes as Apple faces growing competition from Samsung, HTC and other makers of phones that run Google's Android operating system.
Here's the compilation of the Apple Inc.'s new offerings – iPhone 5C, iPhone 5S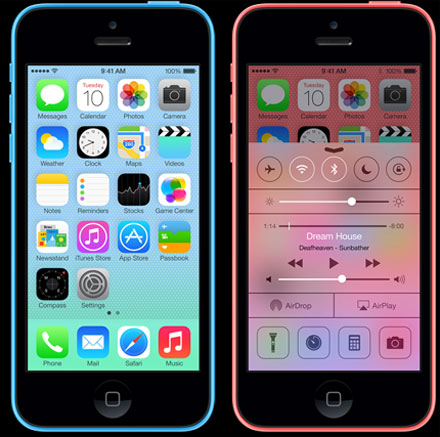 For the colorful
Color is more than just a hue. It expresses a feeling. Makes a statement. Declares an allegiance. Color reveals your personality. iPhone 5c, in five anything-but-shy colors, does just that. It's not just for lovers of color. It's for the colorful.
In Pics: Highlights of iPhone 5S, 5C
An undeniable extension of who you are. And that's exactly why Apple Inc. said no to thousands of seemingly acceptable colors before saying yes to five wit uncommon beauty and depth.
Specification
A6 chip. 8MP iSight camera. 4-inch Retina display. Ultrafast LTE wireless. With an all-new design, this is iPhone as you've never seen it — or held it. iPhone 5c is beautifully, unapologetically plastic, the better to bring its five decidedly uncommon colors to life. Beneath the smooth surface of the seamless outer shell, a steel-reinforced frame provides structural integrity. So iPhone 5c feels reassuringly solid in your hand.
Which one is for you, iphone 5S or iPhone 5C ?
iPhone 5S
* Available in silver, gold, and space gray, iPhone 5s features an A7 chip, a Touch ID fingerprint identity sensor, ultrafast LTE wireless, an iSight camera with a larger 8MP sensor, and iOS 7.
* Estimated price 16GB ($199), 32GB ($299), 64GB ($399).
* Dimensions:
Height: 4.87 inches (123.8 mm)
Width: 2.31 inches (58.6 mm)
For more details click... http://www.indianexpress.com/news/iphone-5c-all-you-want-to-know/1167600/