Details

Category: National News
Published on Wednesday, 20 March 2013 12:00
Written by kripasreerag
Hits: 1008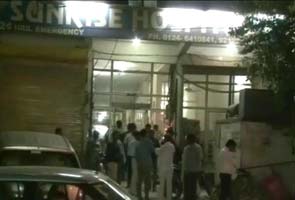 Gurgaon: 
A first year student of an engineering college in Gurgaon has been admitted to the Intensive Care Unit (ICU) of a hospital in the city after he was allegedly ragged and poisoned by his seniors on Tuesday. He is said to be in critical condition.
The student was found unconscious in a park outside the college by his friends on Tuesday afternoon. His family and friends say there were injury marks on his body and hence they suspect he was beaten up before being poisoned. College staff took the student to hospital where he has been kept on ventilator support. 
 "The patient is in critical condition. He will be on observation for 48 hours. He could have been poisoned," said an official at the hospital.
The student, a resident of Delhi, travels to Gurgaon daily to attend his classes. Yesterday, he had appeared for his Maths examination.
According to his friends, he often complained about harassment by seniors. His friends say they have also given the names of some suspects to college authorities, but they are yet to take any action.
The alleged victim's father has told the police that the college didn't inform him about his son's condition. Based on his statement, a case of negligence has been registered against the college.
copyright:http://www.ndtv.com/article/cities/engineering-student-allegedly-ragged-poisoned-by-seniors-admitted-to-hospital-344584?pfrom=home-lateststories