Details

Category: INTERNATIONAL NEWS
Published on Wednesday, 25 December 2013 12:04
Written by kripasreerag
Hits: 1901
The year's happiest moments make everything worth it.
As with any year, 2013 was far from perfect. While it's natural to reflect on the worst of the past 12 months, we'd like to remember the moments that made it a great year to be alive. These pictures show triumphs that range in size and scope, but nothing is small if there are smiles involved.

1. In 2013, not all dreams came true, but some unlikely wishes were granted.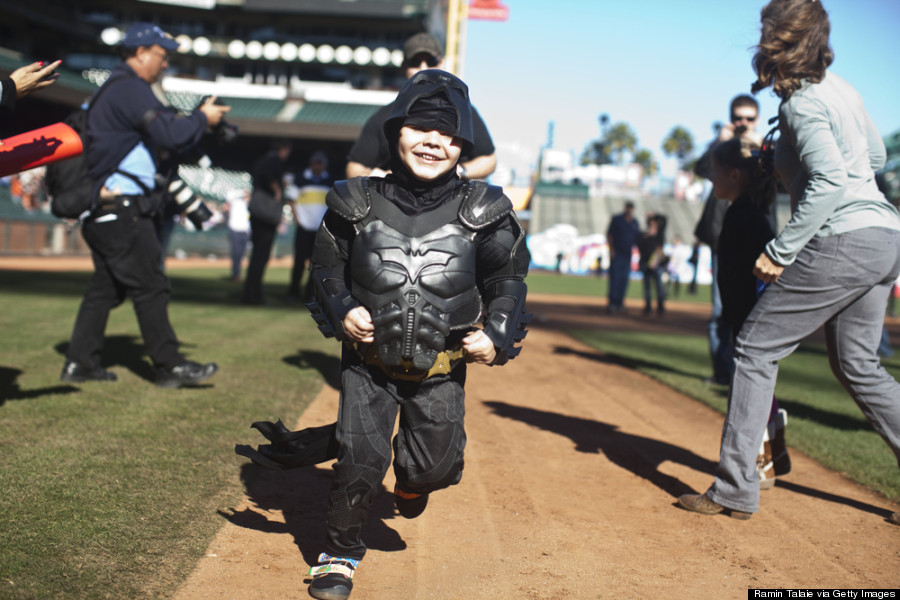 Miles Scott, a five-year-old whose leukemia is now in remission, plays the role of Batkid thanks to the work of the Make-A-Wish foundation and the people of San Francisco. Scott fought costumed criminals as the city transformed itself into Gotham. In mid-December, a billboard paid for by a mystery donor went up near the San Francisco-Oakland Bay Bridge thanking Batkid for saving "the city."

2. These triumphs, both big and small, called for celebration.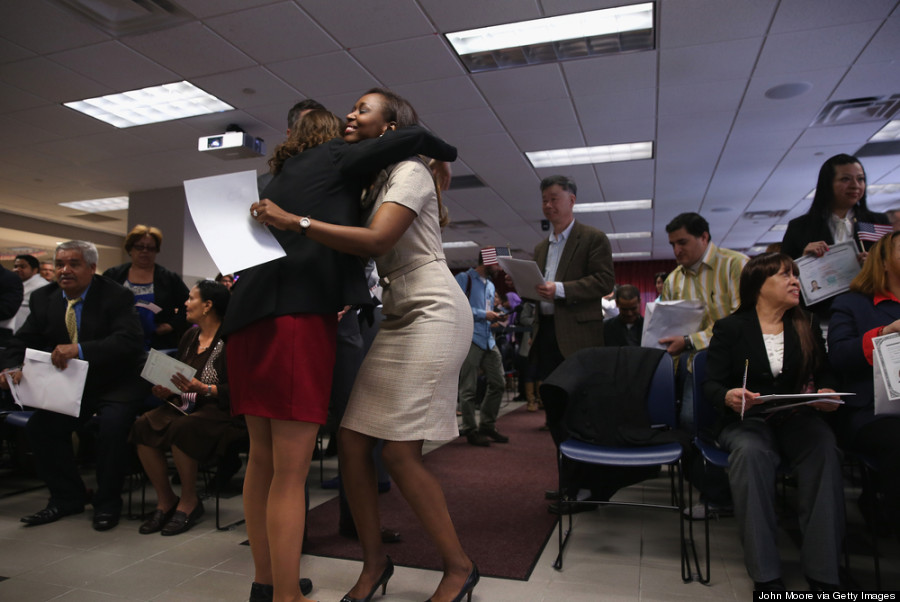 Immaculee Ilibagiza officially becomes an American citizen after emigrating to the United States from Rwanda in 1994 to escape genocide. Ilibagiza has written multiple books about surviving genocide in Rwanda and started the 
Left To Tell Charitable Fund, which attempts to relocate Rwandan orphans and provide support for survivors. Instead of retribution, she has focused on a message of love, saying, "I hope that one day we can laugh and move on holding hands despite the past."

3. And showed us what it looks like when love is not lost...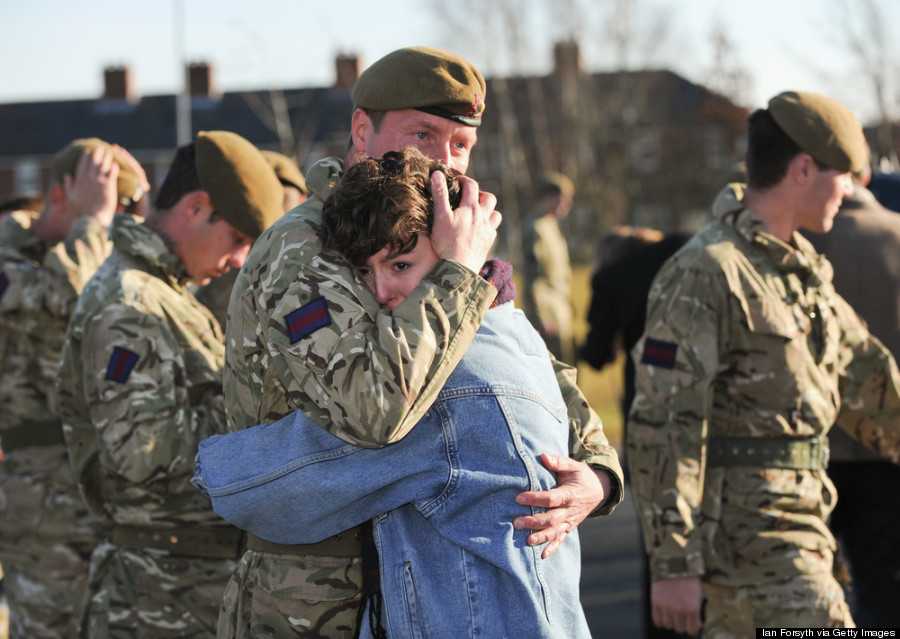 Soldiers From the 1st Battalion of the Scots Guards return home to England from a deployment in Afghanistan. These were the first troops from their brigade to be allowed to return to their families.

4. But when love is won.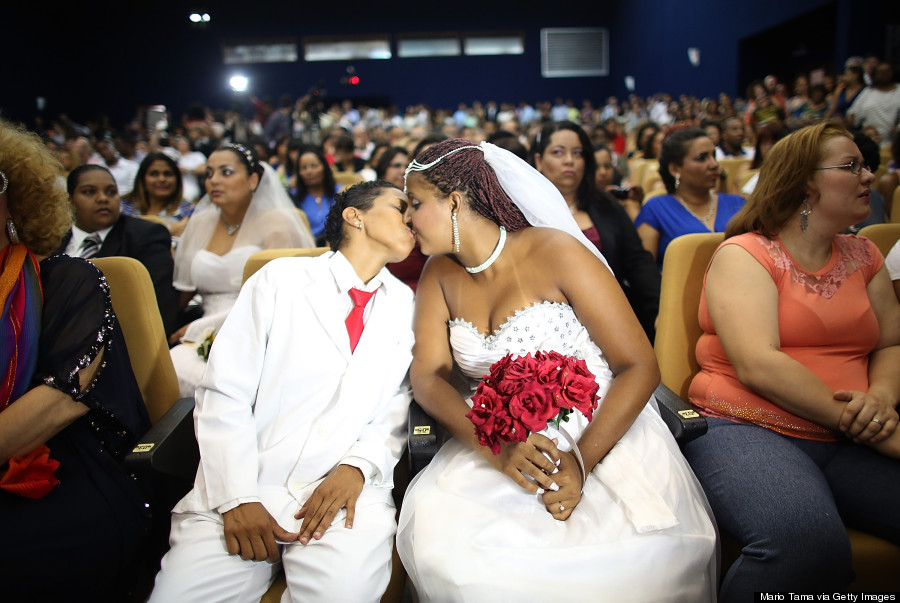 The world's largest communal gay wedding is held in Rio de Janeiro, Brazil with 130 couples getting married. This event marked the first gay civil marriages in Brazil.

5. They showed us that hard work always deserves a toast...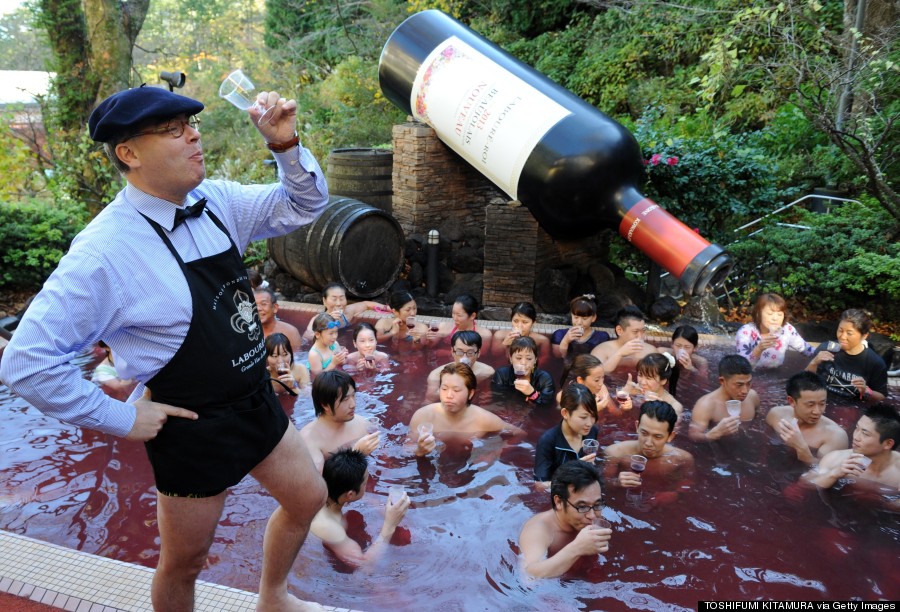 Thibault Garin of Laboure-Roi toasts a spa pool filled with one of his 2013 wines, the Beaujolais Nouveau. It also might make you happy to know that this spa in Hakone town, Japan, features not only a wine spa, but a coffee and green tea pool as well.

6. Even if only to celebrate surviving another year on this Earth.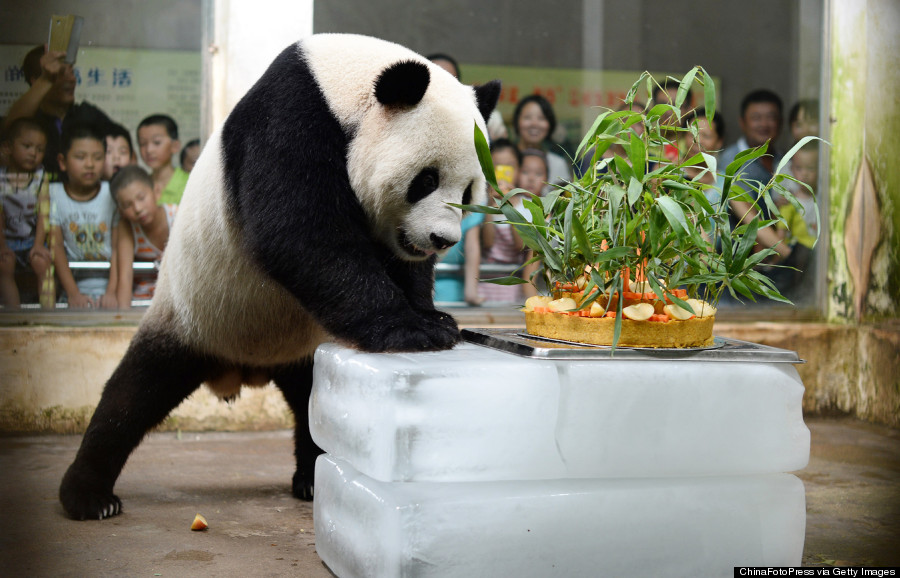 Wei Wei the giant panda celebrates his 8th birthday with a cake made of water, soybean, bamboo, corn, apple and carrot. If you want to see what Wei Wei looks like when tumbling in the snow, you should check out this picture.

7. These triumphs were worth screaming about.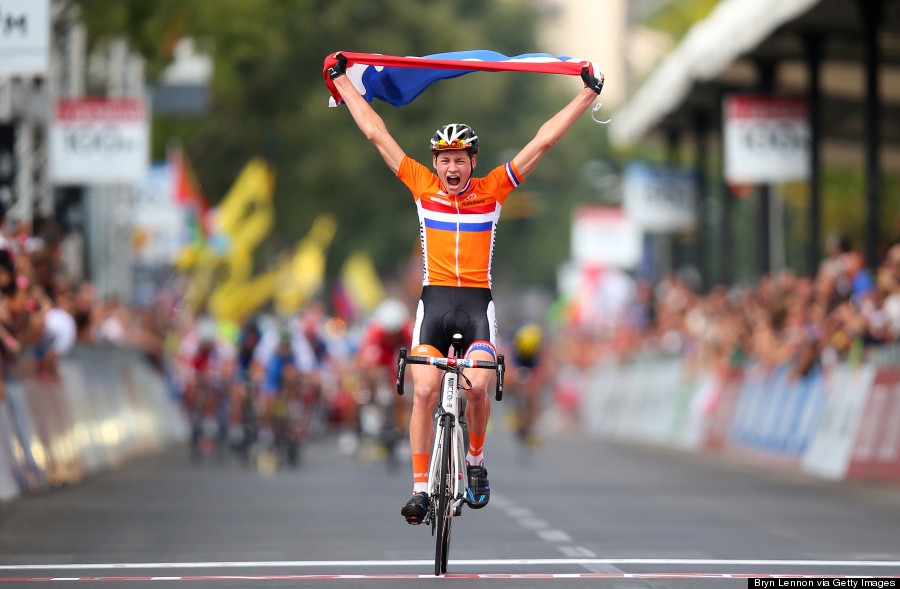 18-year-old Mathieu van der Poel of the Netherlands wins the Junior Men's Road Race in Florence, Italy. He comes from an accomplished family of cyclists, and his dad and older brother have also won notable events over their careers.

8. And far better when shared with a friend.
Ian McKellen and Patrick Stewart drink beers together. Ever since McKellen and Stewart began starring in the plays, "No Man's Land" and "Waiting For Godot" together this summer, the two have seemed like the best of friends. They've appeared together insmiling picture after smiling picture. The two are such good friends that Ian McKellen officiated over Patrick Stewart's wedding.

9. Even when those friends were met in unexpected places.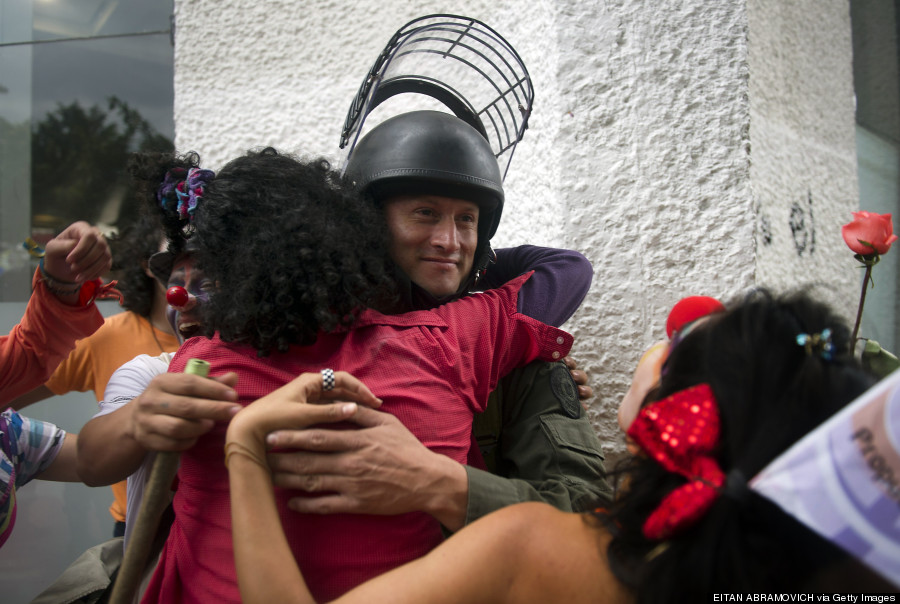 A Colombian policeman and an activist hug as the Congress for Peace in Bogota comes to a close. Photos depicting protesters and police coming together don't always have such a happy ending. A 20-year-old Italian protester was charged with sexual assault after kissing a police officer during a demonstration earlier this year.

10. Some found their triumphs at the bottom of a hill.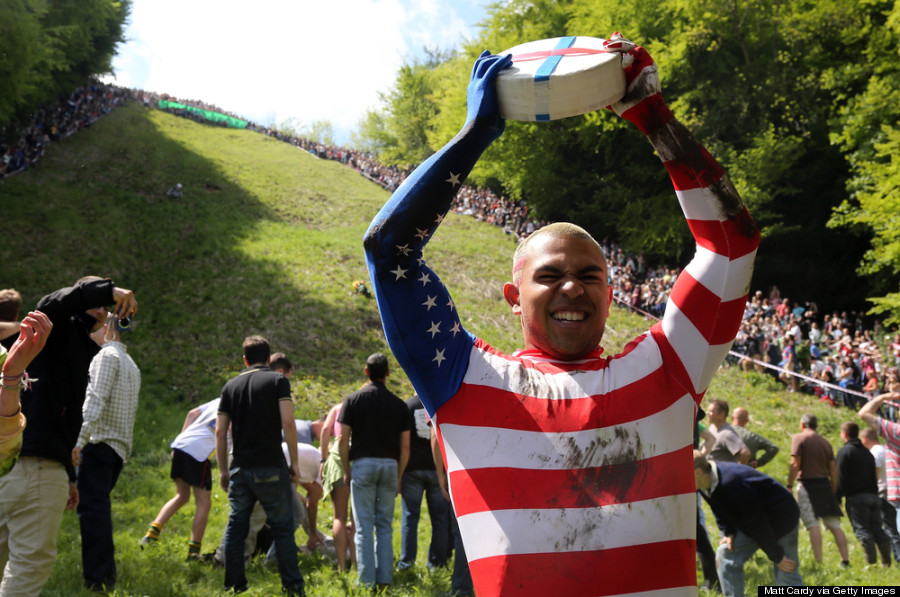 American Kenny Rackers wins a "cheese-rolling" contest at Cooper's Hill in Brockworth, Gloucestershire, England in front of thousands of spectators. The race involves contestants throwing themselves down an extremely steep hill after a wheel of cheese -- or replica -- and trying to reach the bottom quickest. The winner gets the trophy cheese.

11. Others found them at the end of a difficult year.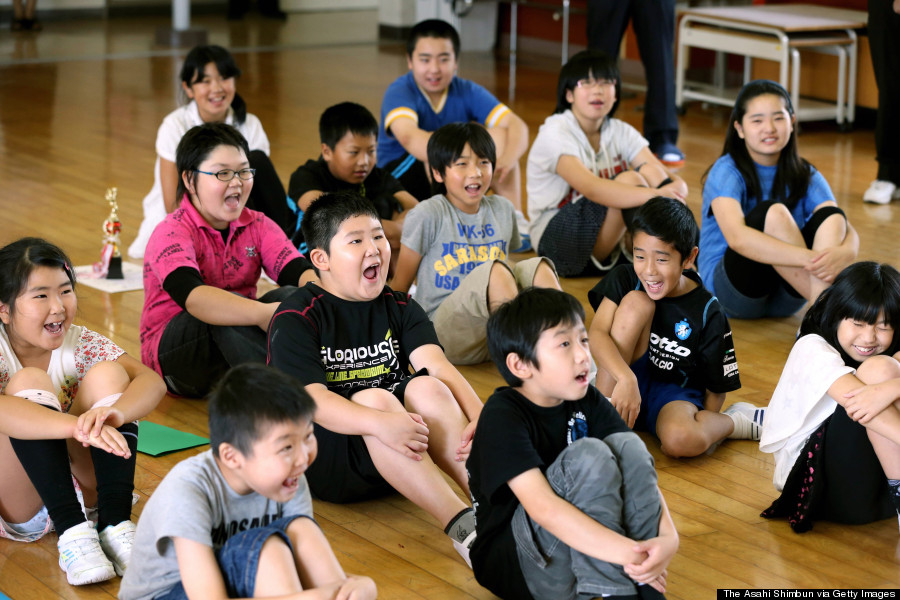 A handful of elementary school students smile as they prepare to enter summer vacation. Most of them have been commuting from temporary housing due to the lasting effects of the Fukushima Daiichi Nuclear Power Plant disaster in 2011.

12. They came in many beautiful forms.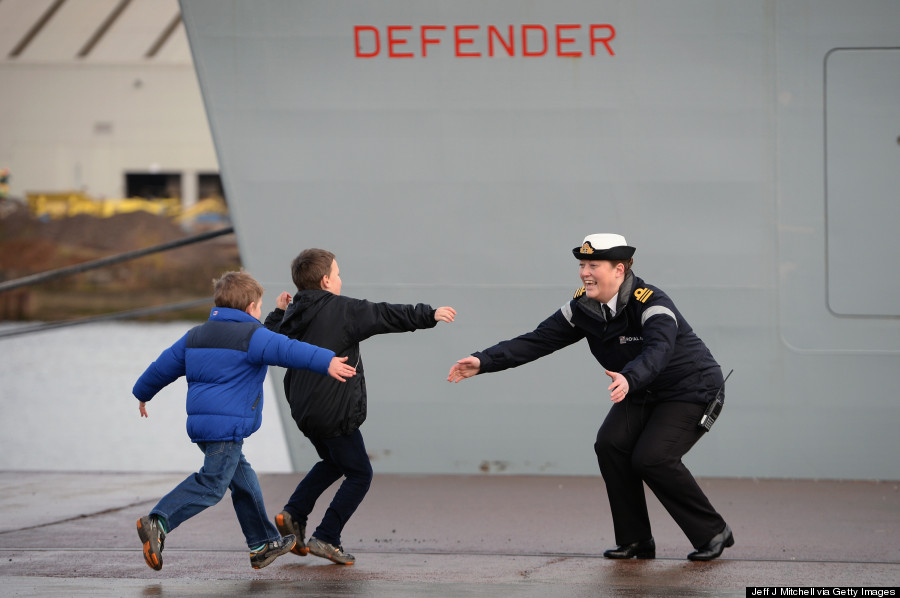 Lieutenant Commander Kirsty Flegg's two sons run toward her outstretched arms moments after she returned home to Glasgow, Scotland. Flegg had been deployed on the HMS Defender which is a Type 45 destroyer.

13. Some people achieved long-awaited hometown legend status...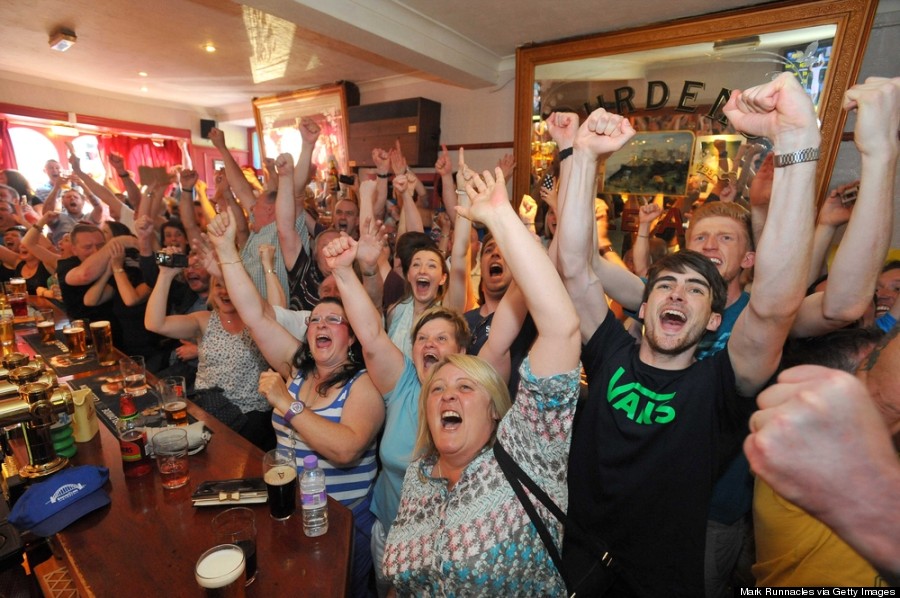 Andy Murray's hometown of Dunblane, Scotland celebrates as he wins the Wimbledon 2013 Men's Singles final against Novak Djokovic. Murray became the first British man in 77 years to win the title, an honor that he earned after coming painfully close in previous competitions.

14. Or qualified for the finals.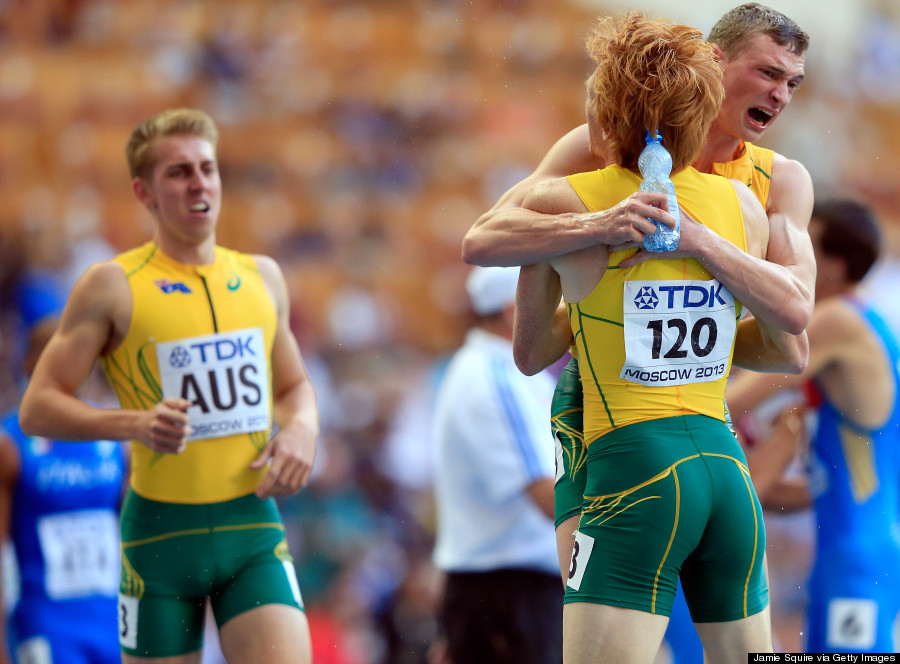 Steven Solomon and Tristan Thomas of the Australian team embrace after qualifying for the finals in the Men's 4x400 meter relay during the 14th IAAF World Athletics Championships in Moscow. The 20-year-old Solomon accepted a scholarship to Stanford University following the 2012 Summer Olympics and is a "lover of Chocolate."

15. Others triumphed simply by caring...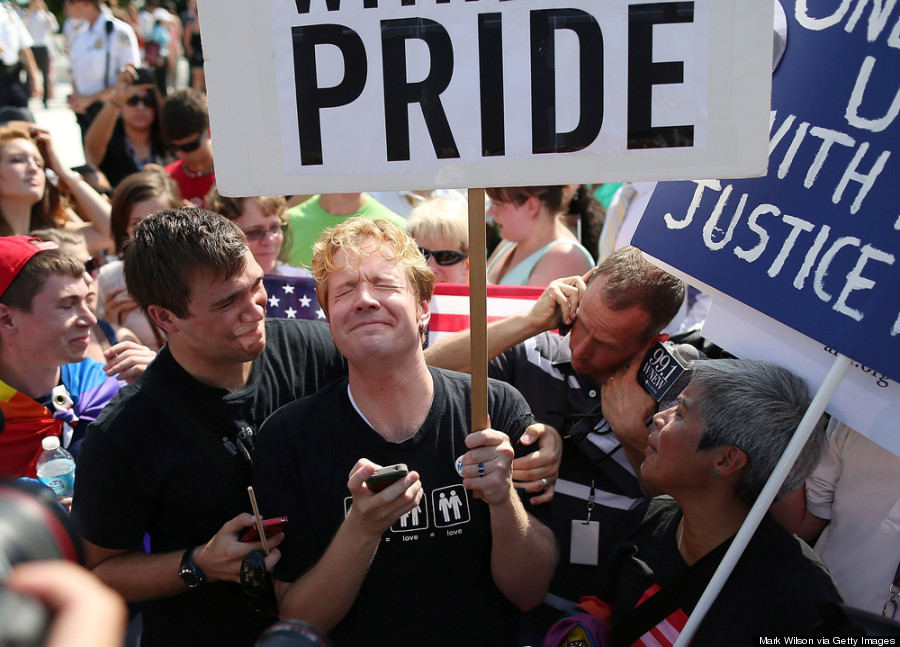 Michael Knaapen and John Becker react to hearing that the Defense of Marriage Act had been ruled unconstitutional by the Supreme Court. The two are married and Knaapen aspires to found a church someday.

16. And sharing their love for each other, even after all these years.
A couple embraces on their 60th wedding anniversary. The couple's grandchild uploaded their picture to Reddit (receiving hundreds of comments) and went on to describe the couple saying, "My grandfather had Alzheimer's. He didn't remember his children, his home or anything else, but as bad as it got, whenever he saw my grandmother he would say, "Look at my beautiful wife!"

17. Some emerged triumphant from the middle of the herd.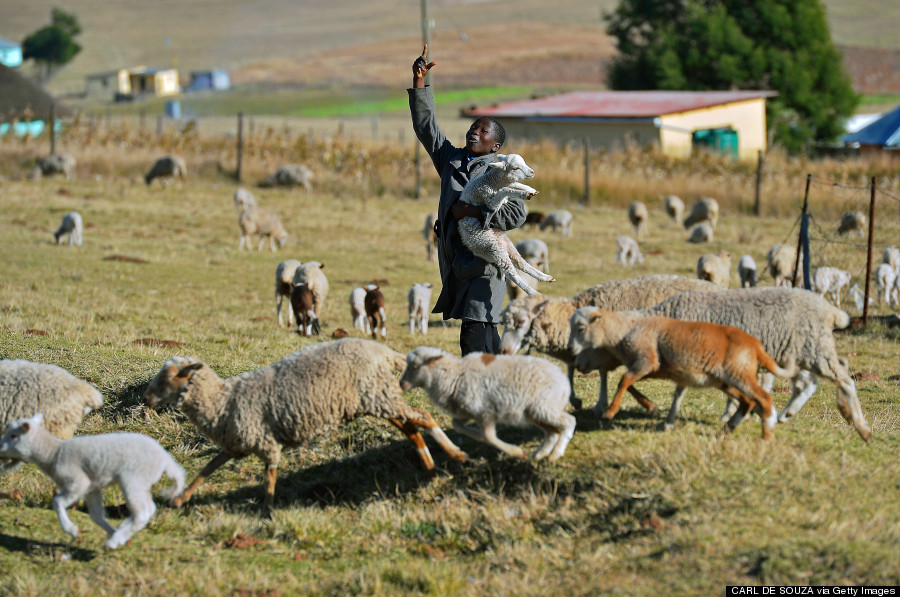 A young shepherd celebrates after catching a lamb that had escaped in Qunu, South Africa. Shepherd photography had a bit of a moment in 2013, as Twitter user @herdyshepherd1, rose to fame by sharing pictures of his sheep.

18. And others, from beneath the rubble.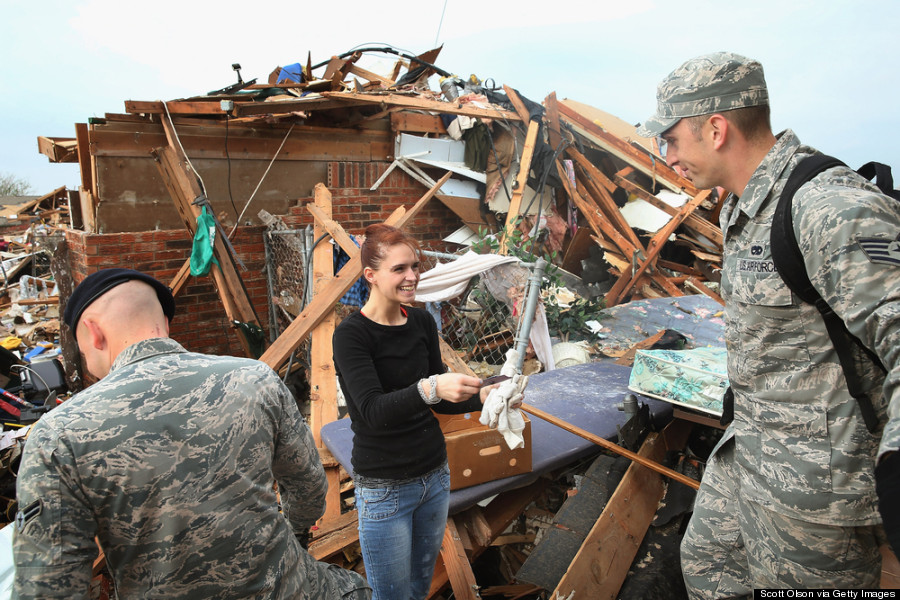 Sabrina Mitchell smiles after a U.S. Airman helping in the tornado recovery effort of Moore, Okla., finds a family picture of her as a young girl in the rubble. The tornado in Moore killed 23 people and injured hundreds.

19. But no matter how these triumphs came, we saw that they were possible.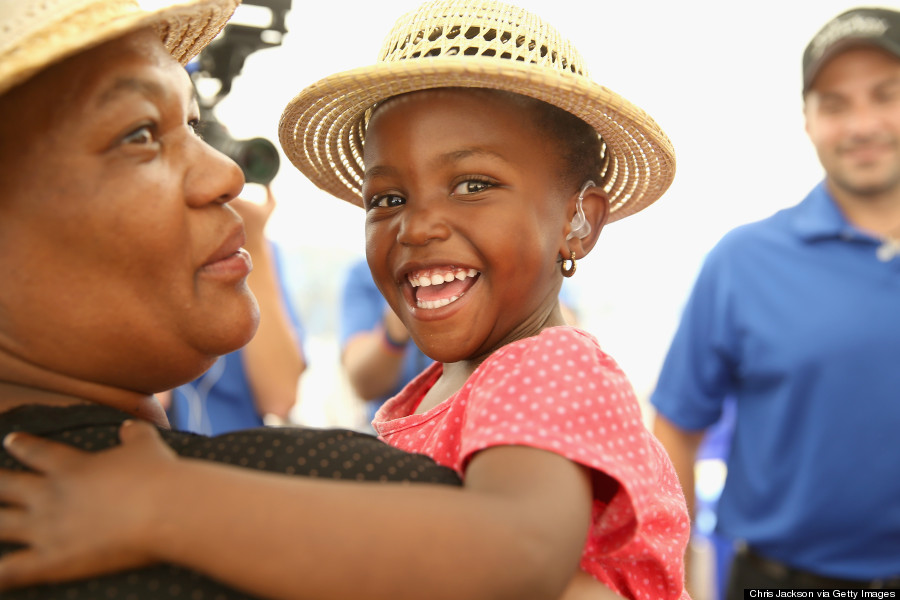 A young child of Lesotho is fitted for hearing aids by volunteers of the Starkey Hearing Foundation. Over a two-day period, the Starkey Hearing Foundation helped over 500 people hear. Some of them had been deaf their entire lives.

20. Even against the world's overwhelming odds.
A Croatian girl kisses her Serbian boyfriend after an older conservative lady asked the girl how two people of the differing nationalities could even stand next to one another. The two were walking hand in hand during a cultural parade thrown by the United World College in Mostar, Bosnia-Herzegovina. Their friend uploaded the picture to Reddit and elaborated that although the kiss might not seem like much, they felt the kiss represented the younger generations' refusal to hold on to the hatred of the past.

21. And in the end, we realized that triumphs can be as simple as a smile.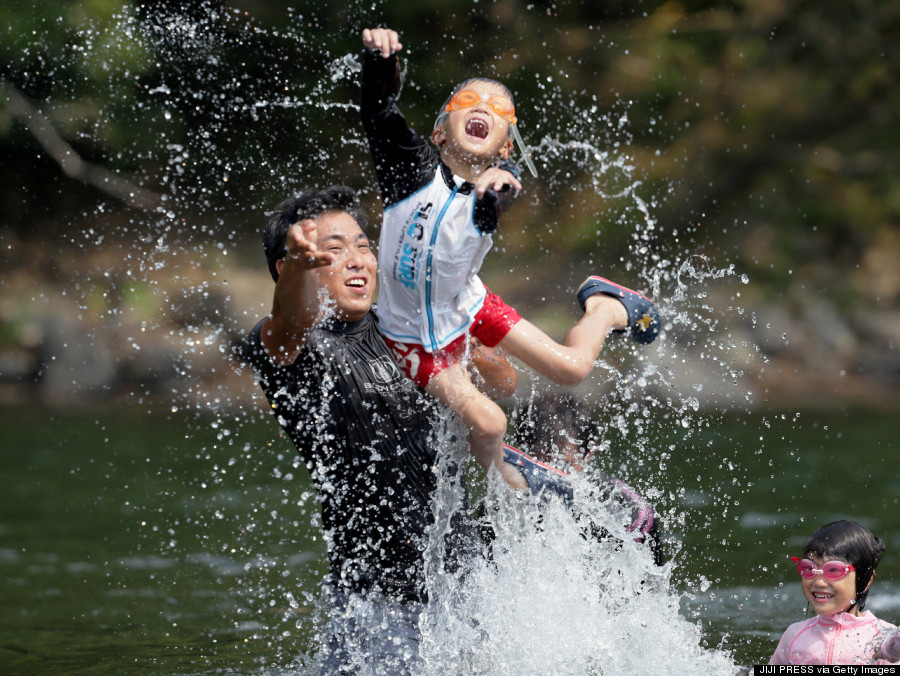 A family plays together in the water amid record-high temperatures in Shimanto City, Japan. The smile on this kid's face makes him look like he's ready to fly to the moon.