Details

Category: INTERNATIONAL NEWS
Published on Friday, 01 November 2013 00:23
Written by nidinbalakrishnan
Hits: 3721
The website, media promotions and buzz being created states that Sardar Patel should not be 'oblivious to pages of history'.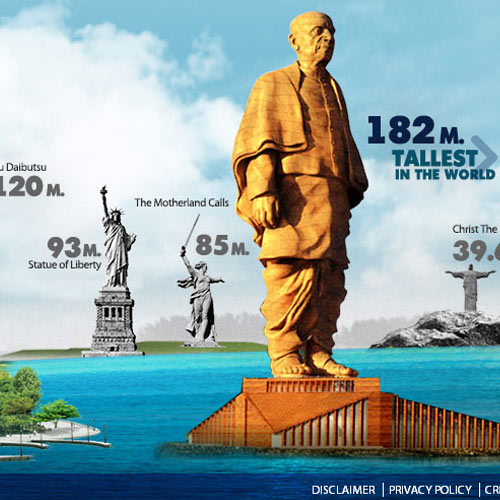 On Thursday, Gujarat chief minister and BJP prime ministerial candidate Narendra Modi laid the foundation of the Sardar Patel statuein Kevadiya.
Set to cost a whopping Rs2,074 crore, the statue is being touted as the tallest statue ever at 182 metres which is twice the height of the Statue of Liberty.
India's first Home Minister, Sardar Vallabhbhai Patelwas also known as the Iron Man of India and he helped unify the country after the British granted independence to India.
For this project, a website www.statueofunity.in   has been created that is up to date with information about the project.
Detailed infographics with the project details in addition to pages that explain the concept of the Sardar Patel statue of unity are on the website.
This video which is a 7-minute film seeks to explain the great man that Sardar Patel was.
The website clearly states, "India cannot afford to bury the life of a man as great as Sardar Patel, into oblivious pages of history. To keep him alive in the hearts of generations to come is the only tribute that he can be commented with. It is thus in order to make Sardar Patel a source of inspiration every generation, that such a massive and divine statue is being built/project is being undertaken."
Interestingly, Mahatma Gandhi the father of the nation recently had a 70 feet statue built in Patna which is the tallest statue of his, but it is a dwarf compared to the much taller Patel statue that is set to stand at 392 feet.
The website has measurements of the tall statues of the world like the Spring Temple Buddha, Ushiku Dalibutsu, Christ the Redeemer, Statue of Liberty and The Motherland Calls which are all either religious or tributes to the motherland.
A statue to Sardar Patel seems a little farfetched as the nation's pride and the world marvel that it seeks to be.  India which is rated badly in terms of human index has several international bodies sanctioning funds to help the poor. In a country where there aren't enough toilets and the poor go hungry to bed almost every night, the funds could have allocated in a more efficient way. 
Interestingly the Sardar Patel museum in Ahmedabad lies closed and in need of a lot of infrastructure work, perhaps the museum should get some urgent attention first.
Sardar Vallabhbhai Patel Statue,Sardar patel statue and Modi,modi on sardar patel statue,Tallest statue in the world,tallest statue in india,tallest statue height,sardar vallabhai patel statue height,patel statue height,tallest statue height,tallest statues in the world,Sardar vallabhai patel profile,Sardar vallabhai patel wikipedia profile