Details

Category: Film
Published on Friday, 23 August 2013 13:35
Written by nidinbalakrishnan
Hits: 1032
Chennai: Theatres in Tamil Nadu are unlikely to screen actor John Abraham's 'Madras Cafe', which is expected to release nationwide today. The Theatre Owners' Association had left the decision of screening the movie on individual theatre owners after both the Tamil and Hindi versions of the film were cleared by the Film Certification Board.

Several theatre owners now say they've received threat letters from Pro-Tamil groups and will not screen the film. A senior official from Satyam Cinemas in Chennai told NDTV, "We can't take risk as public safety is very important".

'Madras Cafe' deals with relations between India and Sri Lanka in the late eighties and early nineties. Pro-Tamil groups who have watched a preview of the movie allege that it portrays the LTTE (Liberation Tigers of Tamil Eelam) as a terror group.

RK Selvamani, a popular film director, said, "The film shows the LTTE as a terror group and there is not a single frame showing the atrocities of the Lankan army."

Actor and producer John Abraham, who plays a Research and Analysis Wing (RAW) agent in the film, said, "Once they watch it, they will have a certain point of view; after that we can have a discussion. But before watching it and to hold a gun to our head to decide what is right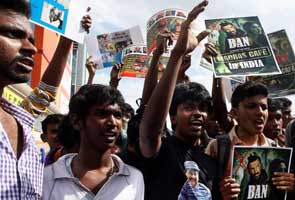 or wrong is not a fair situation in a democratic set up for a filmmaker."

'Madras Cafe' is the third film to face protests this year in Tamil Nadu. Earlier this year, the Tamil Nadu government had initially banned actor Kamal Haasan's 'Viswaroopam' after protests by Muslim groups. The movie was allowed to be screened only after the actor edited certain portions of the film.

Less than a fortnight ago, theatre owners in the state refused to release actor Vijay's Tamil film 'Thalaivaa' following bomb threats from an unknown group. The film was released eleven days after its scheduled release date in the state when the producers dropped the film's tag line "time to lead" and muted a line in a dialogue.
For more http://www.ndtv.com/article/south/john-abraham-s-madras-cafe-unlikely-to-be-released-in-tamil-nadu-today-409222